NEW HOPE PUBLIC ADJUSTER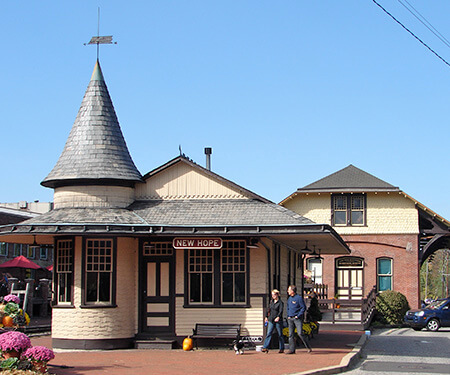 Water Damage In New Hope
New Hope is a laid back artsy destination in historic Bucks County. An easy day trip from Philadelphia and NYC, New Hope is filled with dozens of art galleries, eclectic shops, restaurants, and history.
The Logan Inn is the oldest continually operating inn in the United States. Established in 1727, the inn offered services to George Washington and men.
Travel & Leisure identified New Hope as one of the coolest suburbs to visit. Also, Architectural Digest calls New Hope the prettiest town in Pennsylvania.
New Hope got its name after a large fire in 1790 that burned down several mills. Their reconstruction was considered a "new hope" for the area.
Amid all this beauty, New Hope isn't free from water damage. And water damage in New Hope doesn't always mean flooding. In fact, some water damage is well-concealed. By the time you catch it, it's too late. What can you do?
Water Damage In New Hope vs. Flood Damage.
Homeowners insurance generally doesn't cover water damage from a flood. Although it usually covers water damage caused by leaks, bursting pipes, and storm damage. If you're concerned about flood damage affecting your home, check your policy thoroughly to find out if flood damage is included.
If you're dealing with the impact of water damage to your home, it may look like everything is ruined. From the furniture to the flooring, walls to paint. During this challenging time, the last thing you need is to deal with the runaround from your insurance company.
Because insurance companies are in the business of making money, they do not want to pay out money, especially if a large area of New Hope is damaged. Hiring a public adjuster in New Hope to fight for your rights as an insured homeowner is something you might want to consider.
What Does A Public Adjuster Do?
Public adjusters work for you to prove that your insurance claim is worth the highest amount. They do a water damage assessment to your New Hope home. Then, they file the crucial paperwork with the insurance company. They follow up and hold the insurance company accountable for covered damages. A New Hope public adjuster works for you – not the insurance company.
Your public adjuster will survey the water damage to your home and help process your claim with the insurance company quickly and efficiently. They work for you and handle everything in your best interest to get you the money you deserve to repair your home from water damage.
Think of your public adjuster as a highly-organized, highly-effective ally. They are someone who steps in for you and gets your water claim resolved quickly and fairly, especially when the insurance company wants to drag their feet.
How Can A Public Adjuster Help Me With A Water Damage Claim In New Hope? 
In New Hope, water damage can be severe. Also, the emotional and mental stress of losing your furnishings, heirlooms, or other prized belongings can take a toll on your health.
By letting a public adjuster work for you, the insurance company can't take advantage of the stress you're under by offering you a lowball amount for the damages. Your public adjuster helps keep them accountable.
If you're ready to have a New Hope public adjuster handle your water damage claim, or if you have fire damage, storm damage or roof damage to your home, call (267) 567-7784.
Call us today at (267) 567-7784!
Insurance Claim Types
AllClaims Adjustment Company can help you recover from any disaster covered under your property insurance policy and its endorsements. We have handled claims resulting from:
Wind Damage
Other Damage

If you feel that your hurricane, hail, fire, tornado, or water damage claim has been unfairly denied or mishandled, contact our experienced team today for a free case evaluation.
Call us today at (267) 567-7784!