DOYLESTOWN PUBLIC ADJUSTER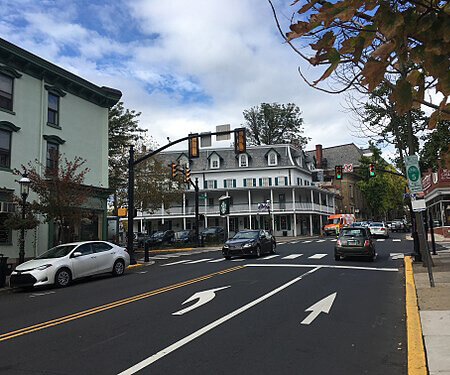 Water Damage And Storm Damage In Doylestown
As the county seat of Bucks County, Doylestown, offers a Main Street business district, museums, historical sites, restaurants, and more.
Located 27 miles north of Philadelphia and 80 miles southwest of New York City, many people who travel to either city make a home here. They love the historic homes and quaint landscapes Doylestown offers.
Besides, Doylestown proudly won USA Today's Best Small Town Cultural Scene in 2019.
Amid all this beauty, Doylestown isn't free from water damage and storm damage. In fact, Doylestown water damage doesn't always mean flooding. In fact, some water damage can be so well-concealed, by the time you catch it, it's too late. What can you do?
Do You Have Water Damage In Doylestown?
If you have a burst pipe or a clogged drain, your home can suffer severe Doylestown water damage. Insurance companies often receive calls from Doylestown homeowners about water damage. It can affect all areas of your home from your basement, kitchen, bath to elsewhere.
Whether the water damage is due to a leak, storm, or another incident, it can ruin your home or property. Since water damage is a commonplace incident that insurance companies have to pay for, and many times, it's the one that they'll often try to delay while your home and belongings continue to deteriorate.
Don't let the insurance company dismiss your insurance claim. With a Doylestown public adjuster on your side, you'll be able to level the playing field. Get the money you deserve to make the necessary repairs and renovations from water damage.
Or Have You Suffered From Storm Damage in Doylestown?
In May 2019, the first tornado in Bucks County hit Doylestown in 22 years. Tornados can bring wind damage and hail damage. Many homes and businesses suffered severe tornado damage, which is why you need an experienced Doylestown public adjuster on your side.
Wind, water, hail, and downed trees are just some of the things that can expose your property and contents, whatever their size, to the elements.
Because the impact of storm damage can extend well beyond what you see, it's an area where insurance companies may try to delay payment.
Here again, it's essential to have a skilled, experienced public adjuster – one who will fight on your behalf. AllClaims Adjustment Company understands the laws and regulations that insurance companies must follow in Doylestown.
We know how to get prompt payment of insurance claims and how to assess the Doylestown storm damage. We'll work with you. And get you the best-desired results so you can rest easy when you work with us.
Hire A Public Adjuster In Doylestown
When you call (267) 567.7784, you'll be speaking to Bill Jacot, the owner of AllClaims Adjustment Company.
We're ready to work with you to find a swift and fair resolution to your home insurance claim. No matter whether you've suffered storm damage or water damage in Doylestown, we'll be there for you every step of the way.
Contact AllClaims Adjustment Company today! Call (267) 567-7784.
Other Insurance Claim Types
AllClaims Adjustment Company can help you recover from any disaster covered under your property insurance policy and its endorsements. We have handled claims resulting from:
Wind Damage
Other Damage

If you feel that your hurricane, hail, fire, tornado, or water damage claim has been unfairly denied or mishandled, contact our experienced team today for a free case evaluation.
Call us today at (267) 567-7784!