FLOOD DAMAGE
One Disaster is Enough. Your Claim Doesn't Need to Be!
Standard property insurance coverage does not cover flood damage. Many times, flooding seems so unlikely because you live in an area where it's doubtful. However, then flooding happens.
The Federal Emergency Management Agency (FEMA) sets the legal definition of flood damage as a "general and temporary condition where two or more acres of normally dry land or two or more properties are inundated by water or mudflow." It's important that you understand this definition.
Now, with costly property damage, how can you file and negotiate a claim that will get you enough to restore your home?
Flood Damage Causes
Several reasons can cause flood damage, including:
Heavy rains

Hurricane or storm surges

Flash flood
Overflowing rivers

Broken or leaking pipes

Damaged pumps
Backed up sewage systems

Clogged drip pans
If a flood or a plumbing issue damaged your home, you need to get it inspected to ensure your home and family are safe.
As your trusted advisors, we are fluent with insurance policy terms and conditions. We will evaluate and document your property's water damage in full detail to make sure you receive the maximum amount to recover.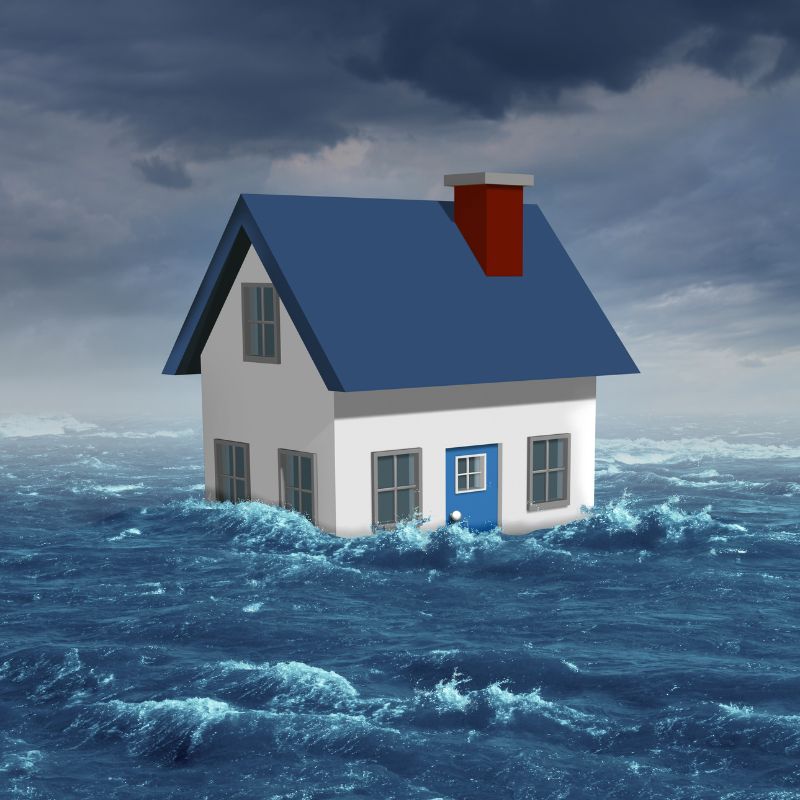 What Is Flood Damage?
A flood occurs when water inundates land that's normally dry, which can happen in a number of ways… excessive rain, a ruptured dam or levee, quick melting of snow or ice, and coastal flooding. Most floods take hours or sometimes days to develop, giving residents time to prepare or evacuate. Others happen quickly and with little warning. 
Flood damage is not considered a form of water damage. Since standard homeowners insurance doesn't cover flooding associated with hurricanes, storms, and heavy rains, it's important to have protection from the floods that often accompany these types of disasters and to understand how your insurance company defines a "flood." 
Flood insurance is usually a separate insurance policy that homeowners will need to purchase to supplement their existing homeowner's insurance policy; this will specifically provide water damage coverage stemming from flood events.
What Types Of Damage Can A Flood Cause In My Home?
Floods can cause catastrophic damage and wipe out entire communities. It is the most prevalent natural disaster in the U.S. Depending on the extent of a flood, you may need to make expensive repairs to your home. Everyone is at risk for flooding, so understanding how a flood can damage your home, and what steps you can take to protect your property, can help you be better prepared.
Here are some examples of damage you may find at your home after a flood:
Structural and electrical damage: Loose or buckling floors and roof or foundation cracks, wet wires, electrical outlets and switches

Appliance damage: Heating, ventilation and air conditioning system, water heaters or refrigerators

Mold and mildew:  Can begin to grow on any damp surface within 24 to 48 hours on drywall, flooring and insulation, clothing and furniture. Dry out the home and belongings as soon as possible. 

Damage to septic and well water systems:  Plan to have it inspected and tested as soon as possible after a flood. 
How Can A Public Adjuster Help Me If I Have Flood Damage?
Public adjusters for flood damage can help you in the following way:
Conduct a complete home inspection and find all possible water damage

Document everything thoroughly

Draw up an application for the insurance company and control the terms of consideration of your insured event

Develop a home renovation strategy
What Does Flood Insurance Cover?
It's different from regular property insurance. When flooding happens, the damage is to multiple homes where the volume of claims can lead to a complicated and stalled insurance claim process with your insurance company.
What is important is knowing what the extent of damage really is. In most cases, the insurance company adjuster will only write their estimate of damages that are only visible. That is where AllClaims Adjustment Company comes in.
By working with us, though, there is no need to wade through any of that. We work with you to assess, evaluate, and document your damage.
We use our past experience of handling similar claims as well as almost a quarter of a century of construction knowledge and put it to work for you. We estimate the damages making sure everything is covered not by just what is visible but whatever else has been affected by the water. Then we'll negotiate a maximum claim recovery with your insurance company.
Call us today at (267) 567-7784!
We serve all of Bucks County including Doylestown, New Hope, Quakertown, Upper Makefield, Chalfont, Buckingham, Newtown, Solebury, and all surrounding areas.