HAIL  DAMAGE
One Disaster is Enough… Your Claim Doesn't Need to Be!
Most often, hail does not leave visible signs of damage to a roof or building. The damage is frequently hidden, hard to find, or develops over time. Some visible signs of hail damage are darkened spots on the roof, knocked-off roof granules, and loose shingles. If there are high winds or the hail storm lasts for several minutes, hidden damage to the roof's shingles will begin. The roof begins to deteriorate.
Hail damage is not just for rooftops and vehicles. For example, hail can ruin siding, windows, landscaping, sheds, and outdoor equipment and furniture.
If you don't know about hail damage, how do you know if your insurance company will be able to identify all possible hail damages? Small dents can lead to problems tomorrow. Even the smallest hail impact on a shingle can lead to a roof leak.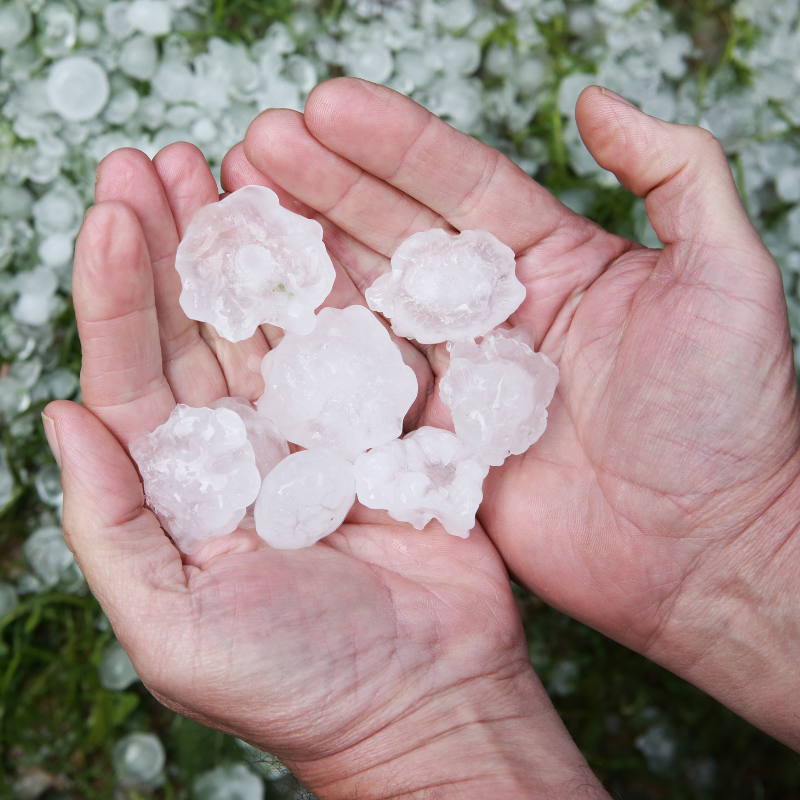 What Is Hail Damage?
During a severe storm, chunks of ice can fall from the sky at varying. If hard enough when they reach the ground, the hail stones can cause damage. Hail damage spikes from March through June, but they can happen all over the country throughout the year.
Hail often causes damage to roofing and siding, which can result in leaks. Repairs may be needed as a result of the damage. It can also damage vehicles. More important than protecting property is making sure that you and your family stay safe during a hailstorm.
Does My Homeowner's Policy Cover Hail Damage?
A standard homeowners insurance policy covers hail damage, including roof damage. However, insurers in some coastal areas may exclude windstorm and hail coverage or have a separate wind/hail damage deductible.  
Home insurance companies may also have different coverage levels for wind and hail damage versus roof damage from other causes. You might find that you can buy only "actual cash value" coverage for wind and hail damage if your roof is too old to qualify for replacement cost coverage. Your insurance reimbursement will be based on the depreciated value of the roof at the time of the damage. 
What Types Of Damage Can Hail Cause To My Home?
Roof Damage: Dents or cracks, broken tile or asphalt, fractured shingles

Window Damage: Cracks and chips, tear screens

Siding Damage: Cracks and holes, vinyl siding may lose flexibility 

Gutters:  Dent or loosen screens or downspouts

Air conditioning units: Damage to fins, restricting airflow, dented blades, and fans
Why Hire A Public Adjuster For Hail Damage
Because hail damage can be challenging to see, it just makes sense to have a public adjuster handle your hail damage claim. You want to make sure you are appropriately compensated for your hail property loss.
Violent weather disruptions such as hail storms can cause unprecedented damage to your home, property, or office. Navigating the insurance claim process can be overwhelming for most people due to the lengthy processes involved.
Public adjusters work closely with insurance carriers to complete the paperwork, documentation, and inspections to assess the post-hail damage.
What is important is knowing what the extent of damage really is. In most cases, the insurance company adjuster will only write their estimate of damages that are only visible. That is where AllClaims Adjustment Company comes in.
Hire Us To Get The Most From Your Hail Damage Insurance Claim
We use our past experience of handling similar claims as well as almost a quarter of a century of construction knowledge and put it to work for you. We estimate the damages making sure everything is covered not by just what is visible but by whatever else has been affected by the water.
It pays to have an expert insurance public adjuster handle the details when it comes to such a major loss. We can help you get your hail claim settlement to where you need it to be. If you have any type of hail damage to your home, call (267) 567-7784 or fill out this form for a free property inspection.
Call us today at (267) 567-7784!
We serve all of Bucks County including Doylestown, New Hope, Quakertown, Upper Makefield, Chalfont, Buckingham, Newtown, Solebury, and all surrounding areas.